GPS for Hummers and Off-Road
© Copyright Chuck Kopelson 10/30/2002
Updated April 19, 2016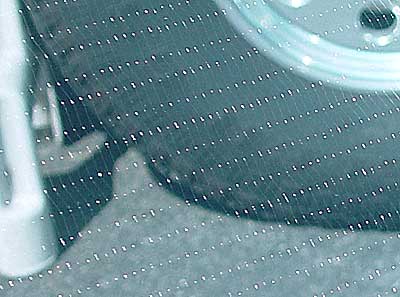 There are all kinds of great GPS units out there now. The real issue for Hummer H1 owners is the ability to use an external antenna. It seems that just about all of the latest (8/2009) automotive GPS's have built in antennas which are great for cars with angled windshields which give the gps a good view of the sky.
I did find what looks like a great gps; a Garmin 7200 with a 7" touch screen and an external antenna connection.
A Hummer 4 door hardtop and wagon have 2 things going against it. One, a vertical windshield which doesn't give the gps a good view of the sky. This of course isn't a problem for the softtops. Two, the heated windshield. The wires in the heated windshield (see picture on the left) act as a shield for the radio waves making it necessary to use an external antenna. In fact radar detectors don't work well when aimed through a heated windshield.
I found a company that sells external gps antennas; Gilsson Technologies. They have a list of gps units that use external antennas on their site. From what I can see, most of the gps's are now older models. The good news is that some of them have the features you want which means you can probably pick one up at a good price.
I also found what's called a Re-radiating antenna system that uses an external antenna outside the vehicle and re-transmits the signal inside the car. If this works you will be able to use any gps you want. They are inexpensive at $25 to $35. The ones I saw require 12v power through a cigarette lighter adapter.
This is the Garmin GPS 176C. In 2002 this was the best unit for my use. As of 2009 Garmin has a 276c/ 376c which is the same thing with autorouting. These are basically portable marine chartplotters. That's why they have external antenna connections.
Unfortunatly, a chartplotter doesn't measure up to the latest automotive gps units because they don't speak street names, don't have 3d maps and don't have touchscreens. From what I can find, nobody has anything new available with an external antenna that measures up to the latest auto gps's.
The saving grace is that you don't need these features if your use is off roading. There are no street names and the trails are usually not well marked on the internal maps if they are marked at all.
What the 176C has is a nice big screen that is clear and readable in the bright sunlight . The unit has WAAS which will give you a more accurate elevation which is nice when you are wheeling in the mountains.
This GPS accepts the Garmin memory cards which will allow you to load a ton of maps including topo's. I got the 64meg module. The 176 comes with a very good mounting bracket. This unit is a good gps for off roading which will tell you where you are. You could probably pickup a used unit pretty cheap.
Most laptops don't have serial interfaces anymore. The older garmins (before 2004) use serial interfaces. You can get cables for these from Garmin.
Skymaster external GPS antenna - $120.00 This is a fully weather proof bulkhead mount (3/4" dia. hole) unit that is about 3" in dia. and 1/2" tall. You can probably find other external weatherproof antennas at marine supply stores.
Latest GPS Units:
Garmin
I have the 2610 as well as the new 60CS. Both have been great. I use the 60Cs while hiking on the trails. It is a great hand held unit and using rechargeable AA batteries helps a lot with the batteries. The screen is glass and is quite durable.
The 2610 comes with a 128MB CF card. I bought a 1GB card and it holds almost half of the US. I use it to download the City Navigator 6 maps for road routing and the 128MB for Topo maps. Just turn the unit off, switch the cards and you are in business. The maps load very quickly but you will need the external antenna with H1. Mine will take for ever to lock on to the satellites without the antenna. Once I mounted the antenna on top of the light bar it is almost instantaneous. The techie at Garmin told me that a 2GB CF card will hold (almost) all the maps. It is easy to move the 2610 from car to car as many have pointed out. But it is not "person portable" since it does not run on batteries. Be sure to keep a couple of extra 1AMP fuses (for a couple of bucks from any auto parts store) as the in line fuse in cigarette lighter adapter that has the speaker built in tends to blow.
The garmin 2610 is a better unit for off-roading as it uses the memory compact flash which is shockproof. The newer unit, the 2620, has a built in harddrive which would be subjected to hard knocks and jolts. Anyone who knows computers knows a harddrive cannot take shocks without catastrophic failure. Besides, compact flash cards are really cheap and available up to 5gb. I have heard nothing but praise for the Garmin 2610 durability and functionality wise.
01/10/2005 - You can get the 2620 now for around $940 and the 2610 now for around $620. I got mine about a year ago for $950.
Lowrance
Looking around the internet (3/2009) I came across a new GPS HDS-5 baja line that Lowrence has. I couldn't find much detail but it looks promising if for no other reason than it has an external antenna.
You are right about the functionality of the Garmin but it get low marks for durability. Look at all the professional desert SCORE racers. Nearly 100% of pro desert racers use the Lowrance 3500 or Lowrance 4000. They will tell you the Garmin can't survive in those conditions.
The Lowrance automotive GPS units are also waterproof so you can switch it from your truck to your boat or motorcycle. We have been using the iWay 500c in our rig and the hard drive has done very well.
The iway has more functionality than the Garmin and can even store 160 CDs. At the Consumer Electronics Show last week Mobile PC magazine gave the iWay the award for best concept. Garmin used to dominate the automotive market but lately they have been falling behind.