Install a Tachometer in N/A Diesel
© Copyright 2000 - 2008 Chuck Kopelson 08/27/2004
Updated April 4, 2010
The turbo diesel hummers have electrically controlled fuel injection so it was easy to put a tach on this truck. All the sensors were already there for the computer. On the other hand installing a tach in a non-computerized older Hummer involves getting an electrical signal from the engine that varies with the rpm. Diesels, unlike gas engines do not use an electrical ignition system so you can't pickup the engine rpm using ignition impulses. Because of this you need to either install a pickup of some kind or grab a signal off of something else electrical like the alternator. The articles below are examples of what other owners have done.
Get the engine speed sending unit and a tach for a 95 N/A
The standard 6.5 engine RPM sender which sits on top of the oil pump drive in the rear of the engine sends four pulses per revolution. The pulses that this sender outputs were not strong enough to drive my non AMG tach. They would be enough to drive the AM General tach which is designed for this setup. You will have to make your own wire harness (4 wires) but it hooks right up. You will have to remove the rear engine cover to gain access to the oil pump drive.
In my case, I made a small amplifier (one IC, couple of resistors and caps was all needed) and everything was happy. Been working there for five years.
If you want to use a tach designed for a gas engine you will have to add a small amplifier (one IC, couple of resistors and caps was all needed) because the output pulse on the standard 6.5 RPM sender is not sufficient to drive a tach designed for a gas engine.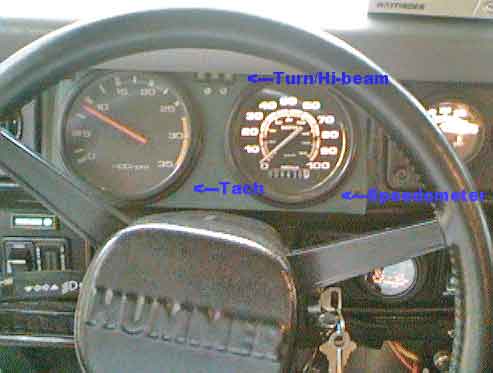 If you set a standard tach to 4 cylinders (instead of eight) then the reading will be twice the engine RPM. This gives a full scale reading (for a 7,000 Rpm tach) of 3,500 RPM. It is simple to create a new face that is calibrated to those numbers.
An 85-89 (i think 89) Isuzu Trooper tach is the same size as the Hummer's speedometer. It is a similar style, too. A few modifications to the instrument panel will allow you to mount the tach and speedometer where the speedometer and lights are now. You then can relocate the (idiot) lights to another location. That puts the tach where god intended it to be, in front of the driver.
I put a tachometer and speedometer with odometer in my '95 six years ago. I used VDO gauges. The tachometer takes its signal from the alternator. There are good instructions on how to program the tachometer depending on the signal source. The gauges are not a perfect match, but they did offer the features I wanted. A tachometer that max's out at 4000 rpm
The Autometer part number is 2888 and you can order this from Summit Racing for $110.00 This is the sender that attaches to the alternator.
Autometer Performance Series #2888
5/8" 5000 RPM
Inductive pick up attaches to outside of alternator.
Very easy to calibrate
I have used one for about ten years with no problems.