Tire Carriers
© Copyright 2000 - 2006 Chuck Kopelson 05/01/2007
Updated May 1, 2007
There are a number of different tire carriers offered for Hummer H1's. One thing to realize is that a tire / wheel on a Hummer can weigh between 110 and 175 pounds. The earlier 2 piece steel wheels with a full rubber runflat weighs 160. An aluminum wheel without a runflat is around 110. A big consideration is getting the wheel up on to a tire carrier.
The factory one-piece steel wheels are hub-centric, and use the flanged lug nuts. All other wheels, are lug-centric and use the "acorn" lug nuts. What this means is that the one-piece factory wheel depends on it's fit over the hub for centering and support. Because of this the hub hole in a one piece wheel (4-3/4") is about 1/32" in diameter smaller then the other Hummer wheels.
This means that these wheels will not fit on earlier tire carriers. Later carriers were modified to accommodate this difference, and still work fine with the non- hub-centric wheels. The factory one-piece aluminum wheels with internal CTIS will not fit the early tire carriers, but that is because of interference by the CTIS line and fitting. There is an adapter available.

This is an OEM factory tire carrier with a 2 piece 12 bolt wheel. Notice that the wheel is mounted with the front facing the tire carrier. The wheel's weight is supported on the carrier's cylinder and fastened with 3 lug nuts.

This is a factory one piece aluminum wheel with a Cepek cti line set. Notice that the brass fitting on the top sticks out beyond the the lug nuts. Also notice that the lug nuts are recessed about one inch into the casting. If you try to mount this wheel facing a standard factory tire carrier the mounting flange will hit the cti fitting. The mounting studs will not be long enough to project through the holes in the wheel due to the recess and you will damage the edge of the aluminum wheel because it will be pushed against the steel flange.
AMG makes an Aluminum Wheel adapter (pictured below) which costs around 200.00 (2007). It allows you to mount your aluminum wheel with the front surface facing out. The adapter bolts on to the existing 3 tire carrier studs and extends out to bolt behind the wheel.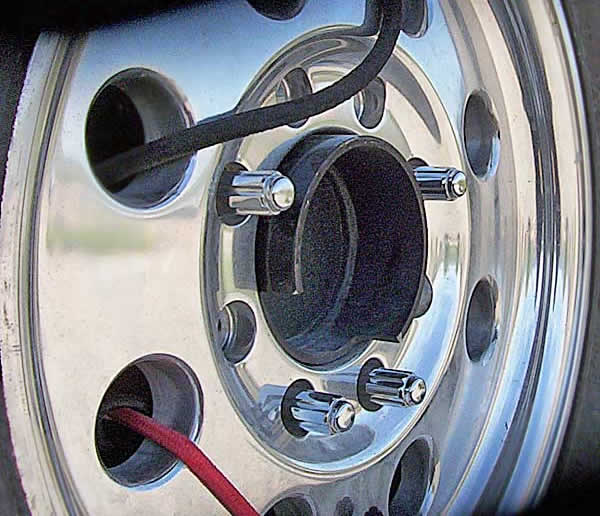 Outside face of a Cepek aluminum rim on a wheel adapter

This is a tire carrier built by one of my friends. It's designed to allow a wheel to mount with the front facing out eliminating the necessity of ever having to need a wheel adapter.