Improved Heavy Duty Crossmember
© Copyright 2000 - 2008 Chuck Kopelson 05/04/2003
Updated April 15, 2009
The crossmember is an integral part of the ladder frame construction on the Hummer. It's also a support for the transfercase and the undercarriage protection. About the only time there are issues with the crossmember is when you smash it on a rock. The leading edge of the stock AMG part is blunt and easily catches on trail debris and rocks when you high center or slide on your belly.
The first time this came up is when I was on a trail in the summer of 1998 with The Colorado Hummer Club around Alamosa called Mt Blanca. I have a couple of pictures of this area in the Photo section of this site. This is one of the most difficult trails I've run in the state. It required multiple winchings and some fancy footwork to make the complete circuit. One of the obstacles on the way down is a vertical wall on the left with a right slanting rock hump and a dropoff on the right. This is one of those places where you stop and look real hard. If you linger too long you might start to loose your nerve because you Do Not want to go over the ledge on the right.
You have to get a little momentum up and attack the hump on the high side and slide across. As you slide your front end will make it over while your rear will start to slide down the slope toward the ledge. Once your front is over and your rear wheels are on their way down the slope you have to goose the throttle enough to pull yourself back over to the left and away from the drop off. During this manuver you end up sliding on everything including the crossmember. One of the guys put a nice dent in the front edge of his. We all said that it would certainly be a nice idea if the crossmember had a nice curved surface so it wouldn't get caught on the rocks.
Well here we are about 5 years later and I finally had a good crossmember fabricated.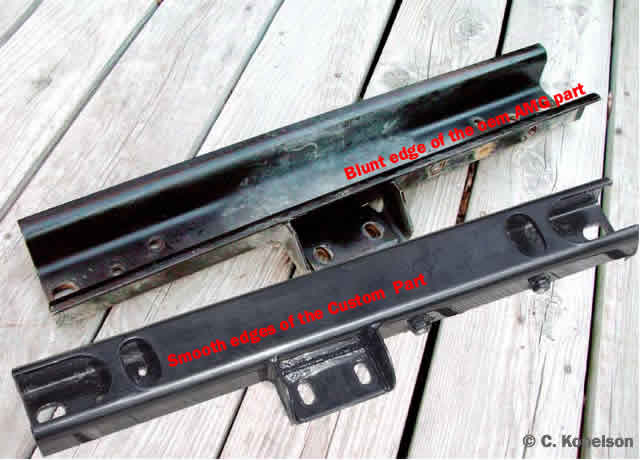 The top part is the stock AMG part which is made out of 9 or 10 gauge steel which is about .14 thick and is open on the bottom. The bottom part is made from much heavier quarter inch (.25) steel and is closed all around. The curved edges won't get caught on the rocks.
Here's a picture of the new crossmember installed. It's a direct replacement and went in very easily. The transfercase protection plate on the stock setup uses 3/8" bolts with nuts and washers. The new crossmember has 7/16" nuts welded in so all you have to do is bolt the plate on. The whole job took me about 1 hour laying on my back under the truck.