Lug Nuts
© Copyright 2000 - 2012 Chuck Kopelson 03/05/2003
Updated April 11, 2012
Lug Nuts are made out of softer metal then the wheel studs. This way a bad thread or over tightening will not damage the stud which is much more difficult to repair. Over tightening wheel nuts is common due to the use of air impact wrenches.
Lug nuts are 9/16x18, with a 7/8 hex head. A 22mm socket *will* fit these nuts (7/8 is just a very tiny fraction larger than a standard 22mm head)
I have a great tip for those of you that have 2 piece steel wheels. I was putting my wheels back on the truck and needed a bunch of new lug nuts. When the nuts get over tightened the thread gets deformed and the nuts won't go on without a lot of force from an impact wrench. If you put them on this way they will be a real bear to remove by hand with a lug wrench. The nuts are made from a softer steel then the studs. That way, if there is a problem, the nut will be sacrificed, not the stud.
Aside from the fact that the nuts cost $1.25 a piece I never have enough spare ones around. When the nuts are over tightened the tapered side of the nut that faces the wheel gets compressed and causes the problem. The first thing you want to do is to test the nut. See if it will screw smoothly onto the stud backwards. If is does the fix is to take a reamer or grinding stone and remove some of the material inside the tapered side of the nut until you can screw it on by hand.
---
Acorn/ Tapered lug nuts: Dorman 611-052
Fits AMG 2-pc steel wheels, AMG aluminum wheels, Recruit one-piece wheels. The thread specs are: 9/16-18
Flange lug nuts: Dorman 611-054
Fits AMG one-piece steel wheels.
The thread specs are: 9/16-18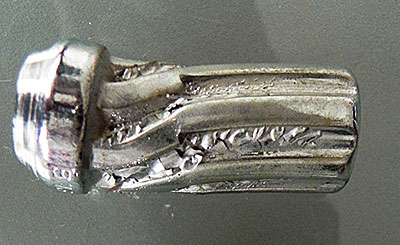 Cepek splined lugnut for Aluminum wheels. 9/16-18 and the depth of the inside thread is 2.3 inches. The lugnut on the right was probably torqued to 1000 ft/lbs using an industrial impact gun. In extreme cases like this, you have to inspect the wheel studs and the wheels for damage. It's possible that the holes in the aluminum wheels have been distorted and or crushed.