Hummer History - The Original 92 Sales Brochures
Buying Used Trucks Article
Paint Codes Article
VIN Numbers Article
© Copyright 2000 - 2007 Chuck Kopelson 09/03/2004
Updated October 12, 2014
Pictures courtesy of Steve Yee
When Hummers were first offered to the public there were no dealers. You bought them factory direct. You could go to the factory and pickup your new truck if you wanted. These pictures were scanned from the 1992 Limited Edition Sales Kit.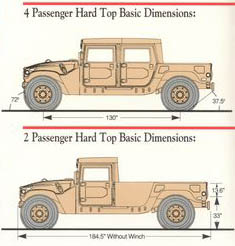 Whether or not they are pics of the Military truck or the actual 92LE's was the question. Jim Bella (hummer Guru from AMG) has told me that "They are touched up photos. Look very close around the window openings and you will see all the features of the Military hard doors. Notice the door handles are painted in lower than on the civilian doors, Military door hinges are shown, door key lock is in the handle; not in the door panel, etc".
When/ why did the brushguard design change?
The only change to the brushguard was the elimination of those smaller diameter vertical tubes due to concerns of obstructing turnsignal view at certain angles. Those 2 KC auxiliary lights were just clamped onto the lower tube.
---
History
AM General did offer a 383 CARC GREEN "look alike color" they called Military Flat Green; Paint Code G5. As far as I remember true C.A.R.C. (Chemical Agent Resistant Coating) was prohibited from being sprayed for a variety of reasons in the Commercial HUMMER paint system inside the then new Armour (Commercial HUMMER) Building. Therefore...AMG and their paint supplier at the time, Niles Chemical Paint (Company) had to come up with 383 CARC Green, 383 CARC Brown, 383 CARC Black & 686 CARC Tan, "look alike colors" formulated in Arcylic Urathane which OSHA, IOSHA & the EPA allowed to be used in the Commercial HUMMER paint system.
Back then, I did hear rumors of 1 Civilian HUMMER (H1) that did get the "Real Deal" CARC applied "somewhere" in the AMG factory complex, but did not catch up with it to confirm that before it got shipped.
I was contacted by an owner who was reading this article. I think we have found the CARC truck.
Hi Chuck;
I was reading your "Hummer Paint codes" page, and at the bottom you indicate that you thought that you knew of one civi hummer that was painted in Real 383 CARC back then. Well I can tell you that it must be my 1994 VLCO that was painted in 383 CARC paint.
When I went to the factory to pick up my NEW truck in October of 1994, I asked if I could have some "touch-up paint" and I was told that they could not give me any because the paint was way to hard to use, and that I would need special equipment and protection to use this paint.
I asked why it was so special and they said that it was this new CARC paint, and that mine would be the only one to be painted with (for civi use) it because they had to move the body tub over to the military paint line and then back to the commercial line for further assembly, the cost was to great.
So, I still have the truck, and after 13 years of being outside all the time, It still looks great, and the CARC paint resists scratches and it heals itself (the scratches seem to heal after a day or two), and nothing sticks to it, amazing stuff.
The picture is the VLCO at the GMA factory after the installation of the new woodland scapp top and wagon back/with red cross.
GMA is the largest supplier of camo covers to the US military. It is a Canadian owned and operated company that has a US plant near or at Port Huron Mich. They got their start years ago by developing a thermal bag for pizza delivery restaurants.
Yours; Paul Gilmore,Toronto. 1994 VLCO Woodland Scapp
---
I received this from Greg in Mountain View, CA on 9/11/2014.
Just stumbled across your page. The rumor about a CARC civilian Hummer is true and it wasn't that 94. My father bought limited edition number 90 back in 1992 and it was sprayed in CARC Camo. He paid $1500 extra for it and AMG did it only after hesitation. They promised they could at one of the ride and drives, but tried to get out of it. He asked for his $5K deposit back and at that point they agreed.
I still have three gallons of the real nasty CARC that they provided when he asked about touch up and/or repair paint. The brown and black were applied by hand by the guys that touch up the military trucks since there was no program for the automated sprayers that usually spray the military trucks during production.
We only had the truck for about two years. AMG bought it back under the lemon law. We broke two transmissions (literally in half), two rear diffs, three or four axle shafts, we had constant problems with brake shuddering. During the two years, it was down for probably six months. There was no repair network for the first year and nobody knew how to work on them. Eventually Fremont Ford became a dealer and service center, but even those guys sucked.
After the truck went back to AMG, my dad heard it was sold and was last known to be in Berlin, Germany. I'd love to see it again. It was near and dear to me. I spent countless hours installing electric locks integrated with an alarm system. Hummers are a joke without central locking, having to climb over the mother of all transmission tunnels!
---
In November 2007 I received an email from Damon & Cindy Hopper who had been reading this page. Damon said
I talked to the nice people at AMGeneral and I learned alot, but I still want more info. I have a 1992 H1 pick up Vin# NE133344. It is the 6th truck built from the Vin# but I was told that is was the second off of the line.
This H1 has only 31k miles never flogged and until now has always been stored in a garage. Your website is outstanding!!!!!!!!!