My First 4 Wheeler & Why I Fell in Love with 4 Wheeling
© Copyright 2000 - 2006 Chuck Kopelson 08/17/2004
Updated April 3, 2009
The 4wd community is small as it is. I think that anyone that wants to be a part of it should be welcomed in. I don't choose to go out wheeling with people by what they drive, it's how they drive that matters.
See my 1975 Off Road Pictures
My 1975 CJ5 Renegade with a 304 V8, Holly carb, headers, Safari Suspension, Gabriel Adjustable E shocks and Armstrong True Track tires. The picture was taken in 1976 at Left Hand Canyon outside of Boulder Co.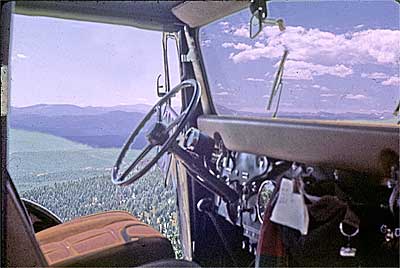 How does a flatlander from the Chicago suburbs get hooked on 4 wheeling. I was a new engineer out of school and got my first job based in the Northern IL suburbs as a field engineer doing air pollution work in Lyons CO (between Longmont and Boulder). I was working with a bunch of engineers who grew up in Colorado living in Boulder. These guys took me to the map store, picked the topo's I needed and marked the whole state up with all the trails and places they had known growing up. I bought a new CJ-5 Renegade back in Illinois, drove it out to Colorado and the rest is history. I went camping all over the state and fell in Love with the place. The trails all lead to old mining sites, cabins and towns which for me really made it fascinating. As a kid I always loved to explore construction sites. This was a chance to see real history. I remember saying to myself that one day if I ever have a family I'm going to take them out to all the same places I'm exploring now. The neat thing is that it has come true many times since then. I've since owned an International Scout, Nissan Pathfinder, Mitsubishi Montero, a 95 gas Hummer, 96 turbo diesel Hummer and my 98 turbo diesel Hummer.
This shot was at Yankee Boy Basin outside of Ouray Co in 1975. I was told that they filmed a Coors commercial here.
There were very few people 4 wheeling and camping back then. The biggest thing that struck me was how friendly the people were. If you were walking down the street and you caught someone's eye they would smile and say hi. You could be on a trail and not see another vehicle or person all day. When you did happen upon another truck or hiker they were always friendly.
Engineer Pass between Ouray and Lake City CO in 1975.
Yankee Boy Basin out of Ouray Co in 1976.
Somewhere around the Alpine Tunnel in 1976.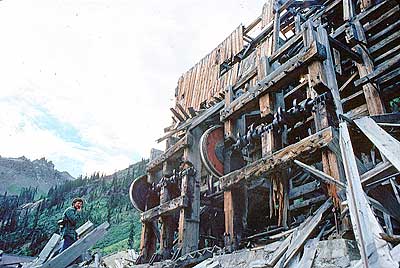 Atlas Mill in Yankee Boy Basin out of Ouray Co in 1976.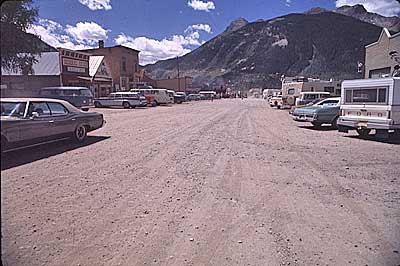 Silverton 1976. I remember going through Silverton and thinking what a cowboy town. The shops were all small and local. I got a kick out of one ore shop selling Galena Lead from Illinois. Check out the cars in the picture.
The picture on the left was taken in 1975 coming into Telluride Co from Alta on Boomerang road. We really didn't know where the hell we were when we came upon the ski lifts. We continued right down the ski hill into Telluride. I've been back many times since. Telluride is so built up Boomerang road is closed off from Alta and I think they'd shoot any 4 wheelers coming down the ski runs.
The picture on the right is Brekenridge in 1975. It was just a small nothing town between Hwy 70 and the turn off in Alma to Mosquito pass.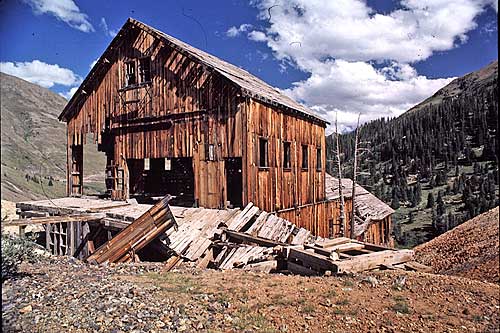 Frisco Mill around Animas Forks outside of Silverton in 1976.