CD Changer Storage Pocket
© Copyright 2000 - 2008 Chuck Kopelson 01/29/2009
Updated January 29, 2009
On the left is the finished product.
When I replaced the factory Monsoon head unit with a Sony the factory Delco cd changer located right in the middle of the dash became an orphan. I left it in the dash so there wouldn't be a gaping hole with nothing in it. This is the story of how I made this space useful.
I started my little project today. I pulled the cd changer out of my 98 and removed the guts from the metal box. You have to undo all the little screws and the carrier splits apart. Once the changer mechanism is out you are going to have to reassemble the carrier using the metal side pieces. The metal side pieces have the threads that hold the whole thing together. Since you don't want any unnecessary hardware sticking out in the new storage cubby you have to strip all the now unused mounting points off of the side pieces. I had to remove 4 studs that insert into rubber silicone filled vibration dampers on the changer. I also had to remove the spring loaded pivots on either side. All it took was a pointed pin punch and all the studs popped right out. I did have to use a tin snips to remove one side of the pivots.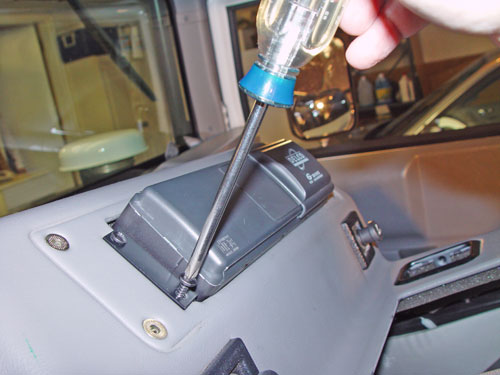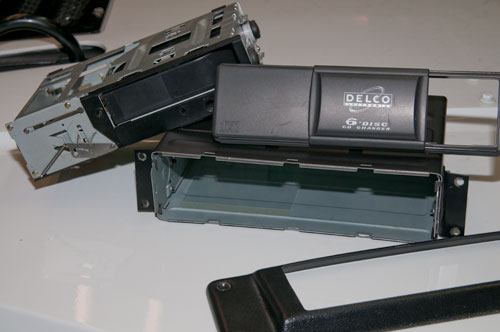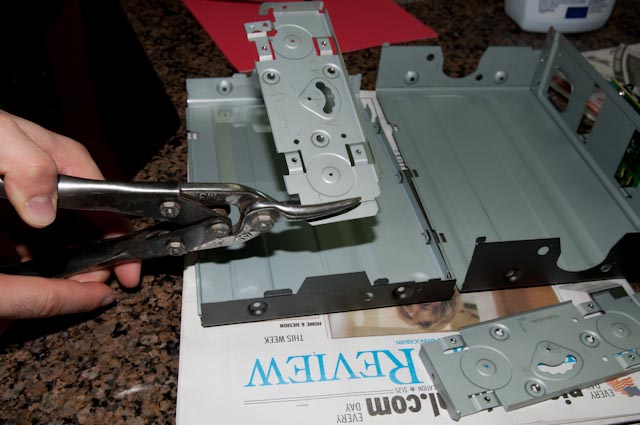 I experimented with the look. I stuck the unit back in the dash with the original CD player plastic trim to see how it looked. While it looked nice there was no way I could trim the plastic off on the left to match the clean lines of the existing opening.
Here's what it looks like without any of the old CD trim. I decided to go with this and finish off the inside of the box.
I disassembled the box and lined it with adheasive backed foam I bought at a crafts store for a couple of bucks a sheet. You could also line it with carpet or matching interior liner.