Supplies and Tools to Take Off-Road
John Klotte AMG Field Service Rep Tool List
© Copyright 2000 - 2012 Chuck Kopelson 07/15/2005
February 3, 2022
I couldn't remember all the tools and parts I have in my truck so I just started to take them out, spread them on the floor and take pictures. I accumulated this over the last 10 years of owning 3 H1's.
I had been on many off-Road trips where AMG sent factory support. For many years there were 2 master Hummer technitions, John Ward and John Klotte who were the mainstay of Hummer field factory support. They told us stories of how they would be called to fly all over the world to troubleshoot and repair trucks. This is a list of the tools in their carry-on bags.
John Klotte's Tool list (with AM General)
This is what I carry in my truck.
48" HiLift Jack
Craftsman Tool Kit
Siphon
Rubber Gloves
Coiled Airline
Serpentine Belt
Tire Pressure Gauge
Bailing wire
Idler-pitman puller (h1)
leather Work Gloves
Hose Clamp Kit
Hand Cleaner
Funnel
Bow Saw
4 Adjustable Wrenches
Misc Wrenches
Hose clamps
Halfshafts
Tierods with ends
U-Joint
upper and lower ball joint
Engine Belt
tire plug kit.
Small collapsable shovel
Jumper cables
Bailing wire
duct tape
Plastic Cable Ties
Fuses
Bulbs
Fuel siphon hose
oil filter
Fuel filter
ATF
Engine Oil
brake fluid
gear lube
Small grease gun
roll of 12 or 14 ga wire
Geared Hub drain plug
Spare FSD (td diesel H1's)
First Aid Kit
Tarp
flashlight
maps
binoculars
rain-jacket
insect repellant
compass
GPS
CB or Amateur Radio
portable cell-phone with cig-lighter power
Sleeping bags or blankets
Boots/Snow Boots
Water
Food
Water purification Tablets
Sunblock
Sun Glasses
Spare Glasses
Spare Keys
Winch Milemarker or Warn
Warn heavy duty winch kit

tree strap
snatch block
Clevis
tow strap
chocker chain
gloves

Yank strap and or Tow rope
spare tire
Highlift jack
Hatchet
knife
Bow saw (for tree branches)
Small Sledge Hammer
12" length of 1" Pipe fits over Socket Wrench for extra leverage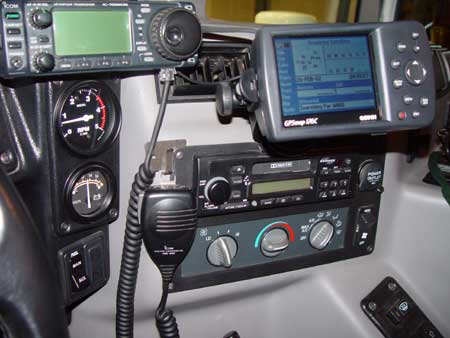 This is my ICOM IC-706MKIIG Amateur radio. Yes, I have a General Ham license - W9HMV. Next to it is my Garmin 176c GPS.
A few years ago I got tired of taking all my sockets and wrenches from my
big tool box whenever I went off road so I bought one of those Craftsman
tool kits that has metric and sae wrenches and sockets. It has 1/4, 3/8 and 1/2" drive ratchets with long and short sockets and some hex wrenches. They usually have them on sale for 100 bucks.
This is a set of halfshafts and a tierod assembly for an H1. Also pictured is a tow/ pull strap and my military storage box. The tow strap is probably one of the most used items. Make sure you get a very heavy duty one because the hummer is an 8000 lb truck. If I were getting a strap today I'd get one made out of the new super strong plastics like Amsteel Blue.
If you don't want to buy a new tierod assembly or ball joints see if you can get some old worn out parts from a Hummer dealer. If you break a tierod or a ball joint off the road you are not going anywhere.
Fire Extingusher
Brake Fluid
Dexron III ATF
Coveralls
Shovel
Bungee cords
Jumper Cables
Hatchet
Ratchet Strap
Grease Gun
Paper Towels
Rags
H1 Factory CTIS Repair Parts
3/8" Hose
1/8" npt to 3/8" tube
1/8" npt plug
EZ-outs for broken cti fittings.
1/8" npt schraeder tire valves
1/4" npt schraeder tire valves
3/8" brass tubing ferrules
Thread Sealing paste Loctite 518 or Permatex 51813 (same thing) anaerobic sealant
Also shown is a wheel nut for a 2 piece steel wheel and a oil drain plug.
You can get the tire valves at auto supply stores. They sometimes call them tank valves.
This is my H1 transfer case cooling loop bypass kit. If the cooling loop breaks you can use this to tie the two lines that go to the cooling loop together.
First Aid Kit
Knife
Space Blanket
Single edge Razor Blade
Flint and Steel
Scissors
Waterproof Match Case
Compass
Marker Pen
Mirror
Toilet Paper
Oil Filter
Duct Tape
Light Oil
Piece of Rubber Mat
Screw drivers
Hex wrench kit
Impact Driver
Pliers
1/2" breaker bar
Channel Loc Pliers
Hose clamps
Fuel Pump
Tarp
This has been one of my most useful items. It beats removing a tire on the trail.
Tire repair kit with plugs. Make sure that the Rubber Cement hasn't gone bad. I like the small sealed tubes. Once you open a tube it will dry out fast.
---
H2 Info
I carry a spare tie rod, even though I have the Fabtech HD ones, but you never know who may need it. Never heard of any front driveline issues with an H2 while off-road. Have been out with one H2 that broke a tooth off the rear ring gear and had to be flat bedded to the dealer.

Most likely thing to break on an H2 is a tie rod, although if you are easy on the gas you will most probably never break one.

I did bend my center link once and had to do a roadside alignment to save my tires from scrubbing away
H2 parts
tie rods, one halfshaft, belt, and hoses. H3 parts observed (interesting to see this one!) consisted of what looked like a curved and L-shaped shock support bracket (looks like it attaches to the leaf spring pack, which makes sense - it's the lowest hanging part of the truck), some steering components, and hoses - no belts though.